2022 Pinnacle of Excellence Awards
Join Us to Recognize Our Industry and Our Stars!
---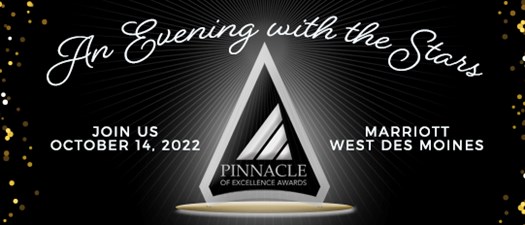 WHAT ARE GIAA'S PINNACLE OF EXCELLENCE AWARDS?
The Pinnacle of Excellence Awards banquet honors the accomplishments of professionals and organizations in the state of Iowa's apartment industry. At the annual Pinnacle of Excellence Awards banquet, professionals from all walks of the Iowa apartment industry, from suppliers to leasing professionals to management, walk down the red carpet and celebrate their accomplishments. In addition, it's truly a night to honor our industry and all of the hard work that goes into being a stakeholder of rental housing.
We receive hundreds of nominations for award categories such as Management, Communities, Maintenance, and Suppliers each year. Nominate your all-star or come and join us in the largest GIAA event of the year. Either way you will never be disappointed with the Pinnacle of Excellence.
The 2022 Pinnacle of Excellence Awards banquet will be held on October 14th from 5pm - 10pm at the Marriott West Des Moines.
---
SPECIAL THANKS TO OUR GALAXY SPONSOR

EVENT SPONSORS

CoStar/Apartments.com - Milky Way Sponsor
Reliable Construction Services - Milky Way Sponsor
BAM Management - Program Sponsor
Perry Reid Properties - Drink Sponsor
Conlin Properties - Star Sponsor
Gavnat and Associates - Star Sponsor
---
Nominations are open to all GIAA members throughout the state of Iowa. All award winners will be determined by an unbiased panel of interviewers from our industry and outside of the state of Iowa (no judges from our state will be used). We look forward to honoring communities and professionals that stand-out and display excellence in their positions within the multifamily apartment living industry!
---
Contact the GIAA at ae@thegiaa.com or 866.562.4422
for alternative payment arrangement. All NOMINATIONS
must be paid in full by the nomination deadline. If
payment is not complete by the deadline, the
nominee(s) will forfeit their opportunity to participate.
Ticket registration must be paid in full by October
7, 2022 to attend the Pinnacle of Excellence event.
If payment is not complete by October 7, 2022
registration will unfortunately be forfeited.
***All Registrations and Sponsorships are Non-Refundable.***
---
To solidify GIAA's commitment to legislative lobbying
and support GIAA education, for each ticket purchased
GIAA will be making a donation of $10.00 to
NAAPAC and GIAA Education.
---
By registering and attending any GIAA class,
meeting, or event you are agreeing to our
Safety Liability Agreement. As deemed necessary,
additional requirements may be added.
Release and Waiver of Liability and Code of Conduct
GIAA will be making safety and the well-being of
our members the #1 priority. Even as restrictions
are lifted, your safety continues to be our #1
concern. We will monitor and follow guidance
from public health agencies on the safest way
to welcome you to any GIAA event.

---
WHAT ARE THIS YEAR'S AWARD CATEGORIES?
Individual Achievement Awards
Categories for which individuals can be nominated:
Maintenance Supervisor of the Year, Individual Site
Maintenance Supervisor of the Year, Multi-Site
NAA Emerging Leader
Apartment Maintenance Technician of the Year
Apartment Leasing Professional of the Year
Apartment Manager of the Year
Apartment Portfolio Manager (Regional Manager) of the Year
Rookie of the Year in the Role of Onsite Maintenance
Rookie of the Year in the Role of Onsite Office
Rookie of the Year in the Role of Vendor Representative
Supplier Sales Professional of the Year
Team/Property Awards
Categories for which communities can be nominated:
Affordable Community of the Year
Community Amenities - Original Built After 2000
Community Amenities - Original Built Before 2000
Community Crisis Response of the Year
Community of the Year (151+ units)
Community of the Year (Less than 150 units)
Rehab Community of the Year
New Construction Community of the Year
Resident Activities - Conventional Community
Resident Activities - Senior Community
Property Management Company of the Year
Agenda
October 14
5:00 PM - 6:00 PM

Cocktail Hour

6:00 PM - 7:00 PM

Dinner

7:00 PM - 9:00 PM

Awards Celebration

9:00 PM - 10:00 PM

After Hours
For More Information: