Maintenance Mania 2023
Maintenance Mania® is a national program offered by NAA / HD Supply.
---
Thursday, February 9, 2023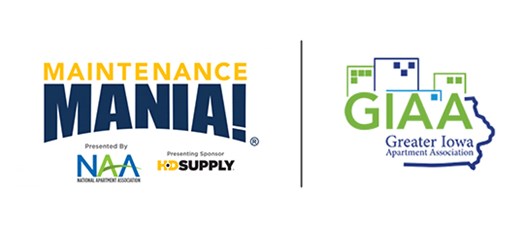 2023 Maintenance Mania
February 9, 2023 | 1:00pm - 7:00pm | Blank Golf Course
808 County Line Rd, Des Moines, IA 50320

Registration Deadline February 3, 2022
You must log in with your GIAA username and password to view Registration.
Maintenance Mania is a national competition where maintenance technicians compete against each other in skill-based games built around common maintenance activities. The competition includes a pinewood derby style car race where the cars are made out of maintenance supplies.
NAA affiliates host Maintenance Mania events across the country to recognize maintenance technicians with awards, prizes and bragging rights. Winners from each local event get a chance to qualify for a spot at the National Championship (To qualify you MUST be a GIAA Member in good standing).
2022-2023 Participant Rulebook
2022-2023 Participant Rulebook (Spanish Version)
---

Maintenance Mania Games
There are seven events that are standard for all Maintenance Mania programs. Each game is open to every Maintenance Mania Competitor with a chance to win prizes for each individual game as well as overall top scores. To view the rules and competitor training videos, scroll down to the bottom of this page.
2023 NATIONAL SPONSORS

---
GIAA Manager's Competition
This competition is designed especially for all Managers. Managers can compete at three of the Games. The fastest average time overall wins the Manager's Award plaque and bragging rights. (Not part of the competition for a National spot, it's just for fun!)
---
Wheel Pick-Up for Your Car Creation
Competitor Race Car wheels are available for pick-up at the GIAA Office after you have registered. Wheels for your car will be dropped off by committee members. Email Association Staff at ae@thegiaa.com with further questions.
---
Awards
Winners will be recognized in the following categories and announced Post Event:
First Place (for each game) - $100.00
Second Place (for each game) - $50.00
Third Place (for each game) - $25.00
Overall Champion Belt
Manager's Award Plaque
---
Training Videos For Competitors
All games are timed to determine the fastest competitor in each game and overall. To view the competitor training videos click on the link for each game below.
---
Registration
FREE| Competitor Only

(Participate in Competitions and access to Competition Arena)
$25| Spectator Only

(Watch Competitions and access to Competition Arena)
Registration includes admission, food + 2 drink tickets. Purchase more Drink Tickets in ADVANCE at registration.
You must log in with your GIAA username and password on the registration page to receive member pricing.
*You must compete in all seven games plus enter a car in the race car competition
to be able to qualify for a spot in the National Championship AND be a member
of the Greater Iowa Apartment Association.
Even as restrictions are lifted, your safety continues to be our number one concern. We will monitor and follow guidance from public health agencies on the safest way to welcome you to our events.
GIAA reserves the right to reject any proposed presentation
by a GIAA event sponsor, as well as all handouts,
which will be made available during GIAA events.
GIAA will not be responsible for the accuracy of any
information provided by an event sponsor.
Agenda
February 9
1:00 PM - 3:00 PM

Registration and Participant Practice


(Participants Only)
2:00 PM - 3:00 PM

Judge Training


(Invite Only)
2:00 PM - 3:00 PM

Supplier Sponsor Set Up

3:00 PM - 6:00 PM

Competition Begins

6:00 PM - 7:00 PM

Awards Ceremony
Liability Waivers
See all waivers here (bottom of page): https://www.naamania.org/events/G2HNX
GIAA will be making safety and the well-being of our members the #1 priority.
***All Registrations and Sponsorships are Non-Refundable.***
2023 FORMAT
The National Apartment Association is organized into 10 regional entities. The participant with the fastest combined time in each region qualifies as a Regional Finalist. The rookies with the 10 fastest times will earn the remaining 10 spots in the National Championship, regardless of region.
Prizes Awarded to the National Championship Winners:
1st Place Overall: The winner receives a CAMT scholarship from NAA and the local affiliate (if offered).
1st, 2nd and 3rd place also receive various prizes donated by presenting sponsor HD Supply and the National Sponsors.
What is Maintenance Mania®?
Maintenance Mania® is a national program offered by NAA and presenting sponsor HD Supply (HDS), in which maintenance technicians compete against each other in various skill-based games.
Each NAA local affiliate has the opportunity to have their maintenance technicians compete individually to win various local awards and a chance to compete at the National Championship held at the annual NAA Education Conference & Exposition.
Participants must be employed by a community in good standing with their local association or an NAA Direct Member. Members interested in qualifying for the National Championship must register as competitors in the National Championship Qualifying Program with their local affiliate.
At the end of the competition year, NAA will offer the top participant from each of the NAA regions, plus 10 wild card participants, the chance to compete in the National Championship. The affiliate also can give the competing individuals various awards at a local level. It is up to the affiliate to decide how they will distribute awards to the winners at their event.
For More Information: