Toni Blake AmaZING Bus Tour
Toni Blake is coming to Iowa for her AmaZING Bus Tour 2022
---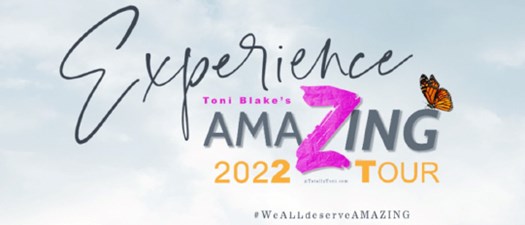 Time Until Toni Blake's Amazing Bus Tour Stop
SPONSOR NOW!
& REGISTER NOW!

MORNING
AmaZING Moments
9:00 am – 11:00 am
Management & Maintenance
AFTERNOON
AmaZING LeaZING
12:00pm – 2:00pm
Leasing, Marketing, & Training
All Tickets include AmaZing E-Book, Desktop Wallpaper, & 2-Week access to the recording.
All LIVE tickets include Brown Bag Lunch
One Hour Brown Bag Lunch Mini-Tradeshow: 11am - Noon


Single Session: LIVE $49 – ZOOM: $29 one ticket to either morning or afternoon session
Double Session: LIVE $79 – ZOOM: $49 one ticket to each session, morning & afternoon
PROPERTY Watch Ticket 1 ZOOM Link: $249 up to 3 LIVE IN PERSON team tickets to each session, morning & afternoon*Must use a property Community email for the Watch Party Ticket
---
TWICE the AMAZING in 2022

2 SESSIONS
---
MORNING: AmaZING Moments
Management & Maintenance
When you've done everything you know to do, it's time for Toni Blake's
AmaZING Expectation Mapping. Your teams will discover how to elevate
the leasing and resident experience with 22 transformational moments.
Each carefully crafted and staged experience goes beyond standard
apartment practice to elevate the perceived value of your community,
establish meaningful human connection, and attract a resident profile of
character driven people.

You'll get the AmaZING Tour E-book with the TotallyToni 2022 Trend
Report, learn why Apple Maps & Yelp are a crux move in the apartment
decision process. Toni will introduce the "YES PATH", One Minute
Maintenance digital resident experiences, and engaging residents with a
"Favorites" plan. You'll learn how to transform your outreach marketing,
new resident orientation, and renewal plan.
Don't miss your chance to add 22 transformational moments in 2022 with
Toni Blake's AMAZING MOMENTS Expectation Map!
---
AFTERNOON: AmaZING LeaZING
Leasing, Marketing, & Training
Program includes:

2022 TotallyToni Market Trend Report
Techniques for Value Positioning with Advanced Marketing Tool
Miracle Marketing with Petty Cash
What to do instead of FREE RENT
Procedures for Improving the Human Connection - Telephone/Email
2022 Re-invented Telephone / E-mail Follow-up
2022 Data on Speed to the Lead – Leasing I.Q.
Real-time Remote Leasing Engagement with QRs
Closing - Everyone - Every time!
Staging a Remote Leasing – Closing on the first visit
***All Registrations and Sponsorships are Non-Refundable.***
Agenda
March 3
9:00 AM - 11:00 AM

MORNING: AmaZING Moments


Managers and Maintenance
11:00 AM - 12:00 PM

Brown Bag Mini-Tradeshow Lunch


Brown Bag Lunch provided. Both sessions.
12:00 PM - 2:00 PM

AFTERNOON: AmaZING LeaZING


Leasing, Marketing, & Training

*Attendees are not required to provide test results or proof of vaccination. As a courtesy, all attendees agree to replace their personal mask, and wear the provided KN95 masks while in the seminar room.
GIAA will be making safety and the well-being of our members the #1 priority. Masks required unless you are FULLY vaccinated and we will practice social distancing and hygiene best practices.
Even as restrictions are lifted, your safety continues to be our number one concern. We will monitor and follow guidance from public health agencies on the safest way to welcome you to our events. Visit the CDC Updated Guidelines here.
SPECIAL THANK YOU TO OUR SPONSORS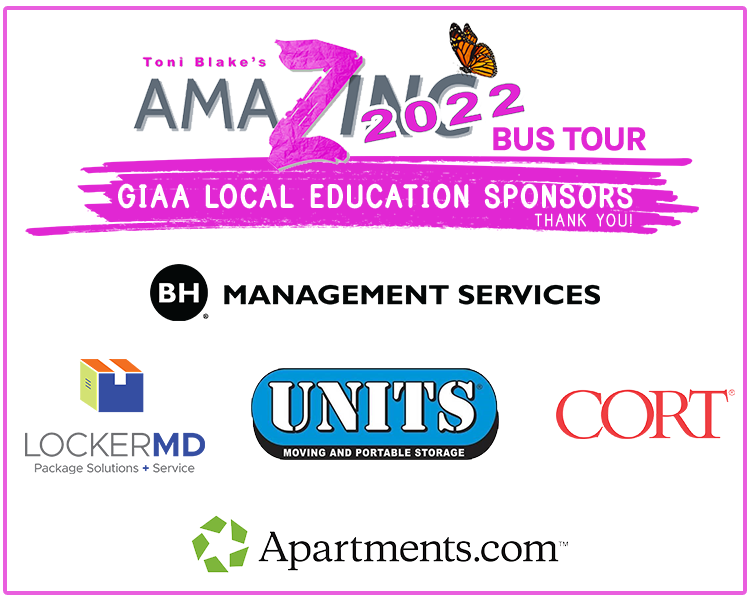 ***All Registrations and Sponsorships are Non-Refundable.***
GIAA reserves the right to reject any proposed presentation
by a GIAA event sponsor, as well as all handouts,
which will be made available during GIAA events.
GIAA will not be responsible for the accuracy of any
information provided by an event sponsor.
For More Information: