What is the Member Compass?
Member Compass is an area tailored to your membership and member engagement. You can View, Print & Pay Invoices, Update Your Profile, Manage Events, easily access news & updates by GIAA & more. You will also be able to track all of your CEC's for your designation renewal by viewing all the classes you have attended.
How Does it Work?
An individual must first create their user account. Once they are logged-in, they will be able to see and access their profile information, transaction history, ecommerce orders, event registrations and more.
Anyone can get to their Member Compass by clicking on their name in the top-right hand corner, similar to other social platforms.
Logged-in Members may see different tabs in their Member Compass, based on their engagement and whether or not they have management access for their account. In addition, both members and non-members may have an account, though their access to certain things on the website will differ.
Regardless of member type, status, or family relationships all logged in users will be able to see:
• Their Dashboard with their membership status
• Transactions billed to themselves
• Their event history
• Their order history
• Their own personal profile information
For Members Only Access you will be able to see:
• Inherited members of your company
• Legislative updates
• Editing USER profile https://www.thegiaa.com/member-compass#profile
And, if you are an individuals with "Company Privileges" you will have access to: Primary Contacts, Billing Contacts, and Management Access.
Logged in users that are assigned as the Primary and/or Billing Contact for a company, as well as users with management access, can see all of the above, as well as:
• View and edit the company profile(s) - if they have access to one company they will have a "Company" tab in their Member Compass, but if they have access to more than one company they will have a "Companies" tab with a list of all the companies
• View and pay transactions for the company, all sub-companies, and related contacts
• View their parent company's order history and subscriptions (they will not see this information for sub-companies or related staff)
• Manage the staff list for the company and all sub-companies (this is optional with a setting - see the Staff section below for more info), including: add/remove staff members, edit staff member profiles, and edit staff member management access (with an option to select multiple companies in the family, if applicable)
NOTE: Anyone in the family tree can have access to multiple company profiles and their staff lists.
The Dashboard section is the first page you will see upon login. This section will show you your membership status, any outstanding invoices, upcoming events, and featured blog categories.
Keep in mind, this is the dashboard for a test account (and primary contact of a company), so a particular member may not have these exact sections.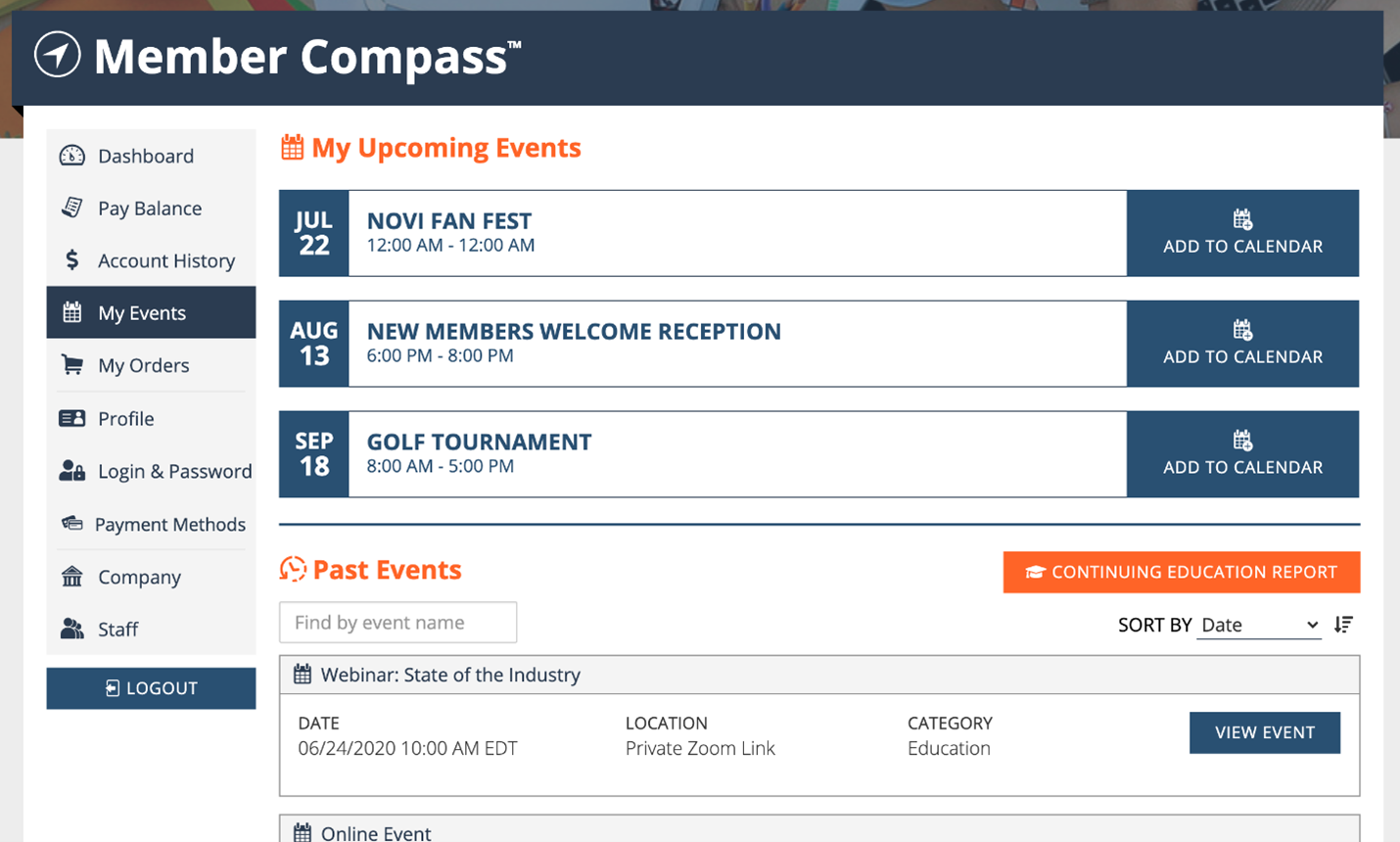 Are You a Supplier?
Did you know you can create SPECIAL OFFERS?
How can you do this? Just log in to the Member Compass and click on the Company Profile icon. The Special Offer fields will be at the bottom of the page.
When creating SPECIAL OFFERS:
• Be Specific
"Let us know you found us on the GIAA website and get a 10% discount"
"New Customer Discount and/or GIAA Member Discount"
"10% discount on first service (by management company)"
"15% discount - GIAA member discount"
Note: Special Offer field is not available on the initial membership registration form, only in the Member Compass.
And, always make sure you have the following items below ADDED to your Company Profile. This can add to the professionalism of your listing and attract more eyes on your company.
• Logo uploaded
• Profile photo uploaded
• Website URL
• Facebook URL