NAA Inflation Tracker: June 2023
CPI, Latest Release, May 2023
Both headline and core CPI met analysts' expectations, with the headline number up 4.1% year-over-year on a seasonally adjusted basis, its lowest level in more than two years. Core CPI remained much higher than the Fed would like at 5.3% but is still moving in the right direction. Monthly increases were highest for shelter costs, used cars and trucks, and car insurance. Prices declined for household furnishings and airline fares.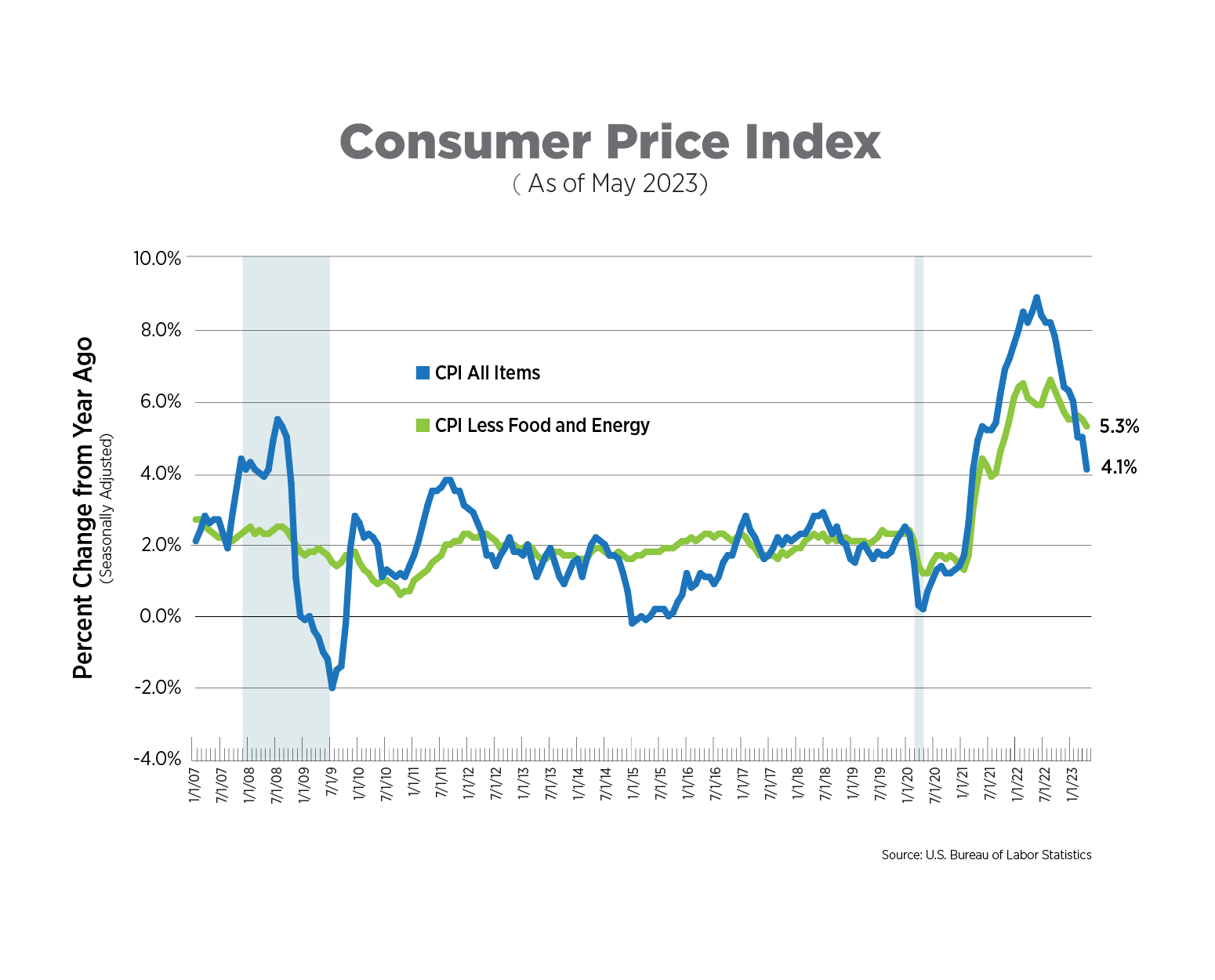 CPI for Housing, May 2023
The CPI includes two measures for shelter costs: owners' equivalent rent and rent of primary residence, both of which are self-reported. Together, they comprise about one-third of CPI. Both measures remained sticky, increasing 0.5% monthly for the past 3 months. On an annual basis, they dipped slightly for the first time since Q1 2021. With a lag time of 8-12 months compared to reported rents for professionally managed properties, rent CPI is expected to decelerate more substantially in the coming months.
"Super Core" Inflation, May 2023
Due mainly to the lags in CPI shelter data, the Fed has begun to focus more on "super core" inflation, that is, prices excluding food, energy and shelter. Super core inflation saw its best reading since March 2021, increasing 3.4% year-over year. Prices were down for health insurance, smartphones and airline fares while still increasing for car insurance and repairs, as well as pet food, among others.
Inflation Expectations, May 2023
The Fed tracks 21 different measures of inflation expectations. The data presented in the chart below are inflation expectations one year from now from the Federal Reserve Bank of New York's Survey of Consumer Expectations and the University of Michigan's Consumer Sentiment Index.
Both measures fell in May, and at 4.1%, the Fed's measure is at its lowest level in two years. Expectations for earnings growth declined, while unemployment expectations and job loss risk improved. Consumers expect prices to fall over the next year for college tuition, food, medical care and rent. The University of Michigan index showed that uncertainty around consumers' short-term expectations may be stabilizing.
Wage Growth, May 2023
Wage growth, as measured by average hourly earnings, remained elevated at 4.3% year-over-year, but is well off peak growth. Over the month, wages rose 0.3%, led by the information sector (1.6%), financial activities, which includes real estate (0.5%) and utilities (0.5%). Earnings adjusted for inflation have been positive for the past two quarters, giving workers some much-needed breathing room. The strength of the labor market, with 339,000 jobs added in May, points to persistent wage pressures in the near term.
What to Watch in the Next Month
The Fed begins its June meeting today, June 13, and will announce any policy changes tomorrow. The minutes released from the May meeting show momentum gaining for pausing rate hikes. The Fed will also release its Q2 23 Summary of Economic Projections.
Goldman Sachs recently reduced its probability of recession risk to 25%, down from 35% in March, due largely to the debt ceiling resolution. While Goldman remains an outlier among forecasters, talks of "soft landing" have once again surfaced among media outlets.
Next Tracker: July 12, 2023